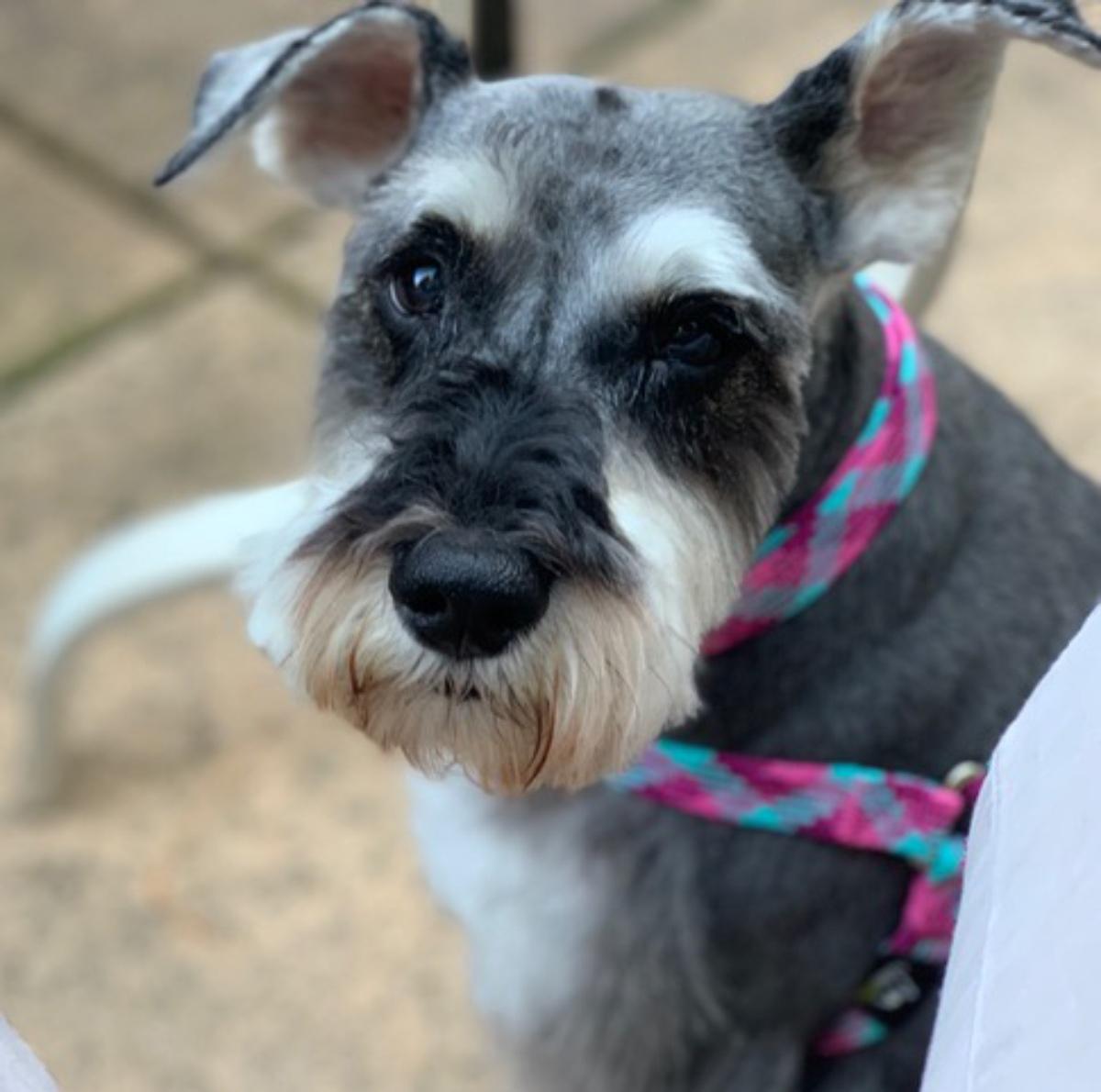 California rescue saves a Schnauzer named Kate.
Meet Kate. These are her "before" and "after" photos. Thanks to the wonderful folks at California Miniature Schnauzer Rescue, Kate has a new lease on life. At their request, I went to a county animal shelter in Northern California to evaluate a stray dog someone had picked up that week. She had neither identification tags nor microchips. They described her as aggressive and unapproachable. They pulled her into the animal control truck with a rabies pole, which gave her a bloody nose and wounds on her head. Her kennel card described her as "antisocial - won't make eye contact." After a few minutes alone with her, the problem was apparent: Kate was completely blind, and she experienced a broken spirit.
From total blindness to chasing butterflies.
I brought the smelly girl home with me, immediately bathed her, and blew her dry, cutting out the worst of her mats and tangles. Because of her blindness, Kate displayed extreme fearful aggression with everyone but me. Kate is only three or four years old, and cataracts completely clouded her eyes. CMSR gave me the green light to evaluate her for cataract removal surgery. After much screening and testing, the surgeon agreed that Kate was a good candidate. They performed the surgery about two months after her rescue, and a true miracle happened. One week after the surgery, Kate went from total blindness to chasing butterflies in my backyard. She's learning to trust people - perhaps for the first time. They cleared her first-ever trip to the groomer one month after her surgery. A beautiful girl was hiding under all that hair! She's got another month of post-operative appointments before she will be ready for her forever home. Kate and I are very grateful to the generous members of California Miniature Schnauzer Rescue and the experts at the Animal Vision Center in Sacramento.
They saved her life. – Nancy J., Rancho Murieta, CA